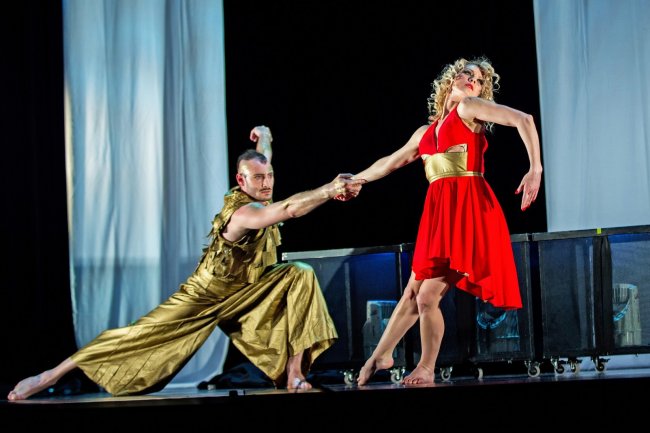 The subject matter of The Miraculous Mandarin is the power of sensuality vs violence, the nature of human suppression and dependence. It shows life outside of society through the eyes of a prostitute whose daily routine does not only mean fulfilling her guests needs but also involves robbery. She has to face the cruelty of the tramps. Mimi would like to flee from this terrible captivity but she somehow depends on the tramps, the way they depend on her. After the visit of the old gentleman and the student a peculiar guest arrives. A rich man from the East, whose strength repels and attracts her at the same time. Beyond the instinctive power of sexuality he represents another dimension, the choice of a better life. The tramps sense something and they do not like this situation. They try to kill the Mandarin in three different ways – all in vain. He is not only reborn after each attack but his unfulfilled lust makes him even more powerful. Finally Mimi voluntarily gives herself to him. The Mandarin dies. His fate is fulfilled. The girl's hopes are lost but maybe she is already carrying her future.
Bartók's legendary pantomime is at least once added to the repertoire of every professional Hungarian ballet company. The ballet is an inescapable challenge for a choreographer. The Miraculous Mandarin is about the alienated urban life with all its filth and longing – as if it was about our valueless 21st century society. Mimi and the mandarin, their drama holds a mirror up to us. They also touch your soul, because their story gives us hope to change, to the possibility of a new, a better life that is the redeeming power of love.
The première was an event of the CAFe Budapest Contemporary Arts Festival and the Bartók Year. In creating the production, Müpa Budapest served as a collaborative partner to Ballet Pécs.